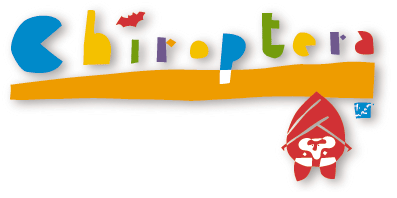 The Bat Study and Conservation group of Japan

The Bat Study and Conservation group of Japan(BSCJ) was established in 1992 by researchers who were concerned with the conservation of bats. The group initially consisted of 45 members, but we now have 350 members as of April 2015. We are devoted to bat conservation and research. We hold a bat festival every summer. We issue bat news once a year and have published two books on bats. We raise money for bat conservation through donation and the sales of postcards and other itemes. We have also created guidelines for Bat Watching.

Anyone interested in bats can join us.
---
TOPICS
Bat festival 2017 is going to be held in Shichinohe Town (which Tenmabayashi-mura was merged into) in Aomori Prefecture on August 5(Sat) and 6(Sun). Tenmadate shrine houses a large maternity roost of Vespertilio sinensis. We are going to watch the bats flyout in the evening.

OUR WORK

Bat Conservation Work
Cautions for filming bats in the wild. This is a basic guideline for filming wildlife. We hope the media can use this. PDF file(in Japanese) is here

Annual Bat Festival every summer across the nation


Bat News (once a year)


Research
iBats-Japan Project World-wide bat monitoring project

Books
Marvelous Bat World--Why Do They Hang Upside Down? by Dr. Funakoshi, Dr. Fukui, Dr. Kawai and Dr. Yoshiyuki issued on 2007/6/27¨Details From basic question to ecology and evolution, the book covers every branch of bat knowledge

The list of Bat species in Japan and their literatures

Join Us

Links
---
Last updated 2017/04/11

Copyright-All images on this site are the property of the Bat Study and Conservation group of Japan