19th Bat Festival 2013 at Ozora-cho in Hokkaido
The bat festival in 2013 was held on July 13th(Sat.) and 14th(Sun.) at Ozora-cho, Abashiri district, Hokkaido
Bat pictures and specimen were exhibited at the festival site,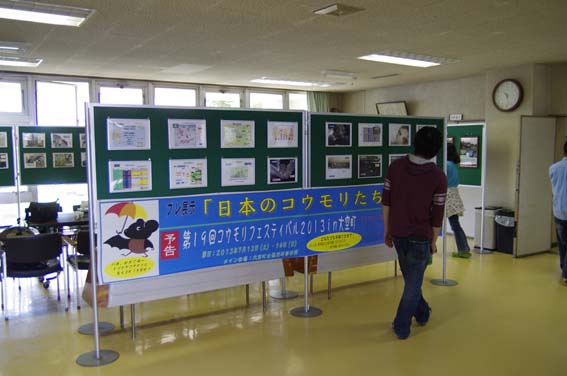 On July 13th, researchers from different areas in Hokkaido told the participants about their bat surveys.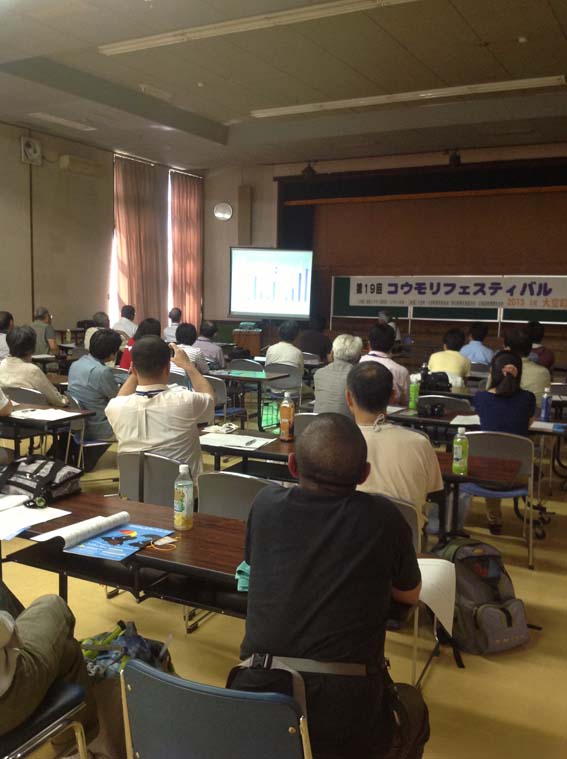 On the evening of July 13th, the bat watching event was held and more than 100 participants from around Hokkaido enjoyed an evening "fly-out" of Parti-colored bats Vespertiliio murinus from a short distance.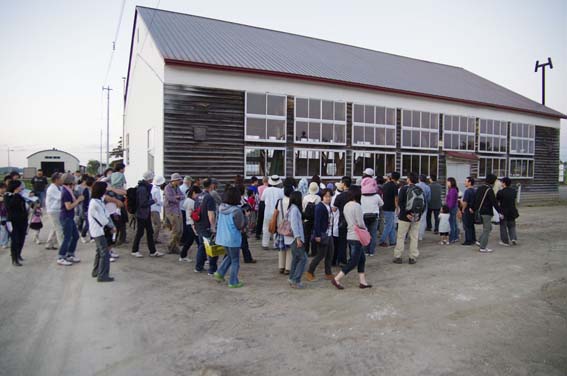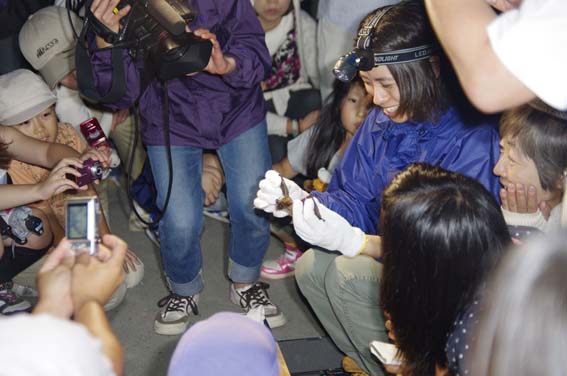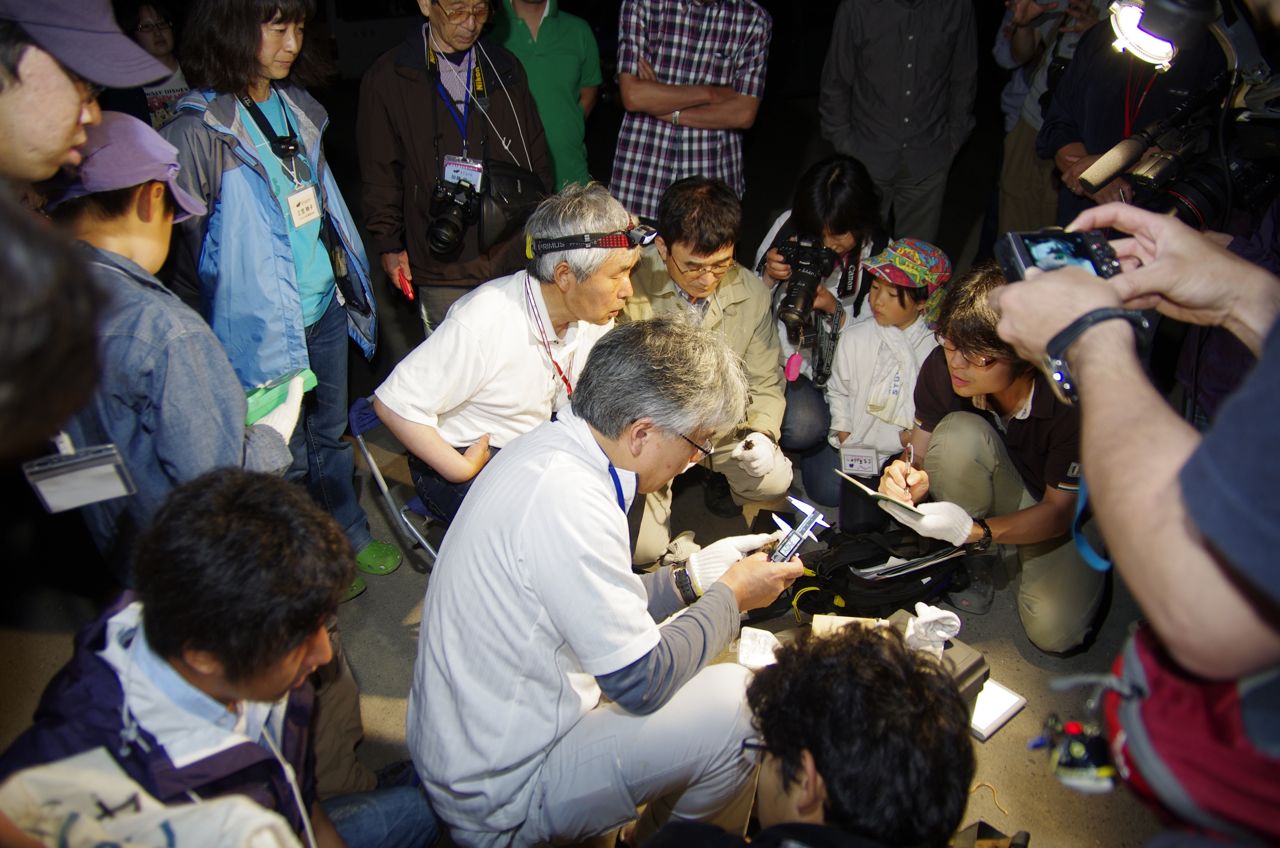 On July 14th Mr Nakajima, a bat photographer, had an introductory lecture about bats. 20 out of 50 participants were pre-school children, they were impressed by the talk and asked a lot of questions to Mr. Nakajima.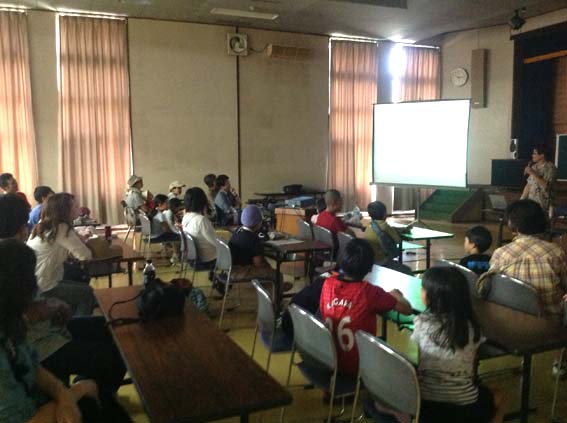 Kids received 2 of 3 different bat designed wrapped chocolates after the bat talk.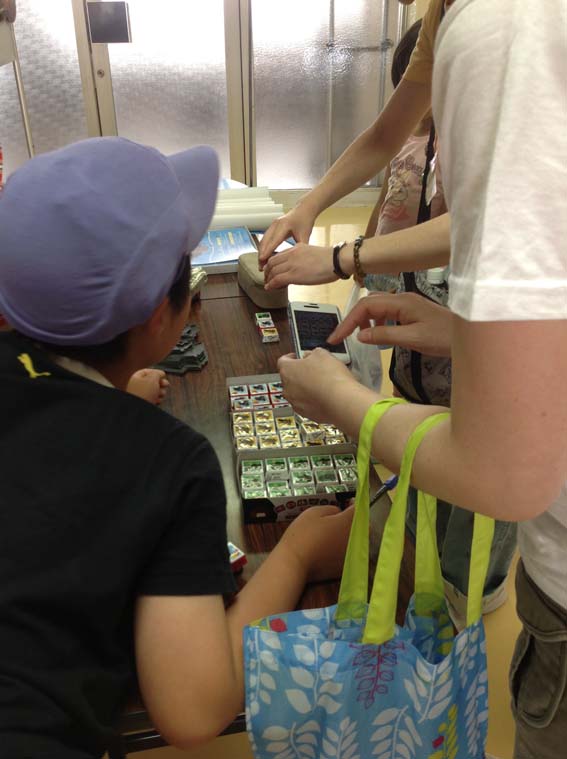 Many bat books and bat designed items were sold at the festival venue.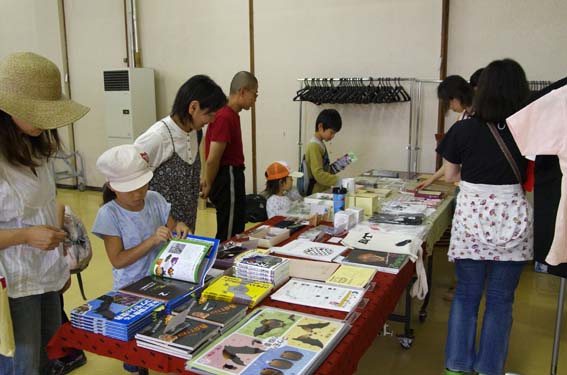 * EZOBAT, a bat research group in Hokkaido donated 23,000 yen to support the bat festival 2013. We are deeply grateful for their kindness.
---
【About festival site】
The maternity colony of Parti-colored bats Vespertiliio murinus was discovered in a closed elementary school's gymnastic hall in Ozora, Abashiri District, Hokkaido in 2011 for the first time in Japan. Since then, Mr Norihisa Kondo from Nemuro Museum of History and Nature, and students fromTokyo University of Agriculture have conducted surveys.

Bat festival 2013 in Ozora-cho is aimed at getting Ozora residents familiar with bats and providing participants a chance to see bats in the bat watching event and bat talks. This also provides a chance to deepen exchanges amang participants.
---
【Date】
July 13(Sat.) and 14(Sun), 2013
Exhibition"Bats in Japan"From June 15 to July 14, 2013

【Venues】
▼Bat talks
Memanbetu Kenshu-kaikan, Ozora-cho, Abashiri district, Hokkaido
(〒099-2323 3-1-4 Nishi-sanjo, Memanbetsu, Ozora-cho, Abashiri district, Hokkaido)

▼Bat watching and festival banquet
Taisei community hall
(〒099-2381 263-2 Taisei, Memanbetsu, Ozora-cho, Abashiri district, Hokkaido)

▼Exhibition
Entrance hall of Memanbetsu Training Hall, Ozora-cho


【Festival organizer】Dohtoh Bat Research Group, Bat Study and Conservation Group of Japan

【Supporter】Ozora-cho office, Ozora-cho board of education
    Asahi-shinbun Hokkaido branch, Hokkaido-shinbun Asahikawa branch
---
【Time table】
■July 13(Sat.) at Memanbetu Kenshu-kaikan 
Bat fauna in Hokkaido (a little challenging) All bat talks are free and no reservation is neeeded.
13:00〜14:00 "Are there 500,000 bats in Dohtoh area?"
       Norihisa Kondo(Dohtoh bat research group)
Q&A, 15 minutes break
14:15〜15:15 Is Tossho-zan rich in bat fauna? Looking for roosts of Fraternal Myotis Myotis frater and Ikonnikov's Myotis Myotis ikonnikovi
       Hiroshi Dewa(O-sara-pet bat research center)
Q&A、15 minutes break
15:30〜16:30  About Ussurian tube-nosed bat Murina ussuriensis
       Hirofumi Hirakawa (Forestry and Forest Products Research Institute)
Q&A、15 minutes break

17:00〜18:30 bath time
    (Himawari Onsen, Hotel Sansui, and so on. walking distance from the festival venue)

18:50 Participants are to start moving to Taisei Community Hall, bat watching event venue by bus.

19:00 〜20:30  Parti-colored bat watching  Reservation in advance is necessary(Insurance premium 150 yen)
 Watch a capture survey by Mr. Kondo and students from Tokyo University of Agriculture and emergence of Parti-colored bats
 
21:00〜  Festival banquet at Taisei Community Hall with mutton barbecue and hors d'oeuvres
Reservation in advance is necessary 3000 yen for adults, 1000 yen for pre-school children

Accommodation: Reservation in advance is necessary. 1800 yen at Taisei Community Hall with no food

−−−−−−−−−−−−−−−−−−−−−−−−−−−−−−−−−−−−−−−−

■July 14 (Sat.) at Memanbetsu Kenshu-kaikan All bat talks are free and no reservation is neeeded.

10:00〜11:30   Bat talk(for general public)
        About bats by Hiroaki Nakajima(Wildlife photographer) and Norihisa Kondo(Dohtoh bat research group)
Talk about bat life with pictures and videos
After the bat talk, chocolate will be distributed to pre-school kids.

13:00〜 Annual general meeting of Bat Study and Conservation Group of Japan
14:00〜 Clean out the exhibition
【Contact】
Bat Study and Conservation Group of Japan office 〒249-0001 Hisagi, Zushi city, Kanagawa
TEL,FAX 046-873-3677 e-mail:mizunobat@hb.tp1.jp
---